Many of you told me that the uninspired artwork I did for the cover of my book How to Fail at Almost Everything and Still Win Big was suppressing sales. You might be right. No one ever accused me of talent in that department. Here was my cover art: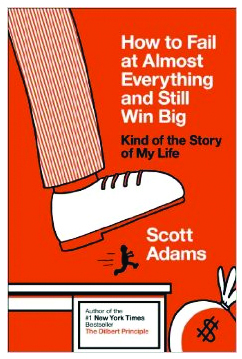 So partly for fun, partly as an experiment, and partly to improve the product, I thought I would invite all interested parties to submit a better cover design for the upcoming soft cover release.
Here's how this will work.
Before September 5th, design a new cover, using the existing title, and email the jpeg or a download link to me at Dilbertcartoonist@gmail.com.
My publisher and I will pick some of the best submissions and run Twitter ads using different cover designs to see if one produces measurably better sales than the others. If any design outperforms my original cover, and the other submissions we test, we'll use it for the softcover.
If your design is the winner, you will receive praise in my blog, attention for yourself and whatever business you wish to promote, ego gratification, bragging rights, a credit on the book jacket, increased happiness from the thrill of victory, and in all likelihood a temporary boost in your sex life. And if you find yourself anywhere near San Francisco, I'll take you to dinner. Those last two items are not related.
I expect to show all of the better entries in this blog as well. So let me know what kind of credit line you would like with it. Feel free to include a link to your website.
Keep in mind that I don't believe a change in the cover will improve sales. If we show that it does, one has to wonder why the entire publishing industry hasn't yet figured out that testing cover designs matters. Perhaps it all goes back to the old saying that you shouldn't judge a book by its cover. I think the science would support the idea that a saying so accepted and ingrained could blind even professionals to the idea that cover design drives sales.
But we will find out if the cover design matters, and that's the fun part. I predict that no alternative cover will outperform my original by a meaningful margin. This isn't a controlled experiment, but I would expect to see a noticeable difference if any is to be found.
Here are the rules:
Dimensions of art: Trim size is 5 ½ x 8 7/16. There is a 0.125 inch bleed on each side for printing.
Format: jpeg file, high resolution. (The original art should be at least 300 dpi). CMYK (not RBG)
Must include all copy:
            Title: How to Fail at Almost Everything and Still Win Big
            Subtitle: Kind of the Story of My Life
            Author: Scott Adams
            Burst: New York Times Bestseller
            Quote: "Some of the simplest, most profound advice." – TIME Magazine
            Submit to: Dilbertcartoonist@gmail.com
            Deadline: September 5th, Midnight PST
           Key theme: Readers of the book have most enjoyed the "systems versus goals" idea, but you are not          
           required to match your art to that concept.
          Use: You agree to sign over to my publisher all rights to the artwork.
         Winner Selected: The Twitter ads will end by September 19th (ish). If any of the entries beat my
         original cover by a meaningful margin I will announce the winner in this blog soon after.
—–
I'll probably post the better submissions on this blog for you to render your opinions before I pick the best of the best for the Twitter test. That way all of you can be part of the process if you like.This should be fun and interesting.
I'll be fascinated to see how much the cover art influences consumer behavior.
_________________________________
Scott Adams
Co-founder of CalendarTree.com
Author of this book