The Dilbert movie script is coming along nicely. You can see in this picture that I am putting notes on the timeline as I think of scene ideas.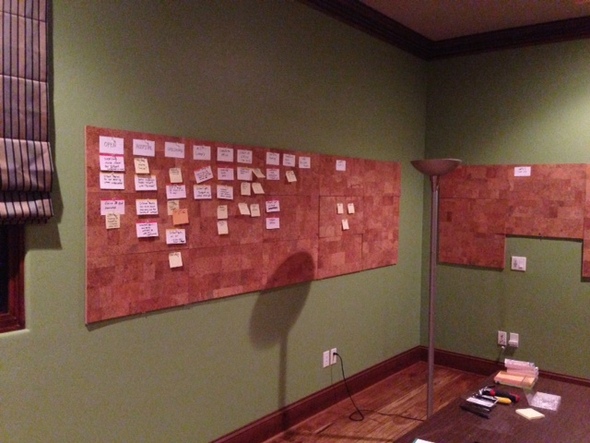 One of the themes throughout the movie will be that simple things are hard to accomplish in our dysfunctional world. One of those simple things will involve Dilbert trying to get a much-needed meeting with the CEO. As a lowly engineer Dilbert won't be able to schedule time directly, so he will have to go at it indirectly. Expect Dilbert to join the CEO's church, join the CEO's golf foursome, and even get a job on the CEO's yacht. The trick with humor writing is to create as many "fish out of water" situations as you can. So putting an atheist in church, a non-athlete on the golf course, and an engineer on the yacht crew gets that done.
With humor writing, you know you have something good when the setup makes you smile before the scene is even written. Imagine Dilbert chatting with churchgoers and trying to keep his scientific mindset to himself. The scene practically writes itself.
Likewise imagine Dilbert trying to golf in a foursome with three billionaires. Or perhaps he will caddy.
There is a good chance that none of these scene ideas will make it to the final script. But I thought you might be interested in the creative process at this point.
Speaking of scenes, feel free to suggest your favorite past Dilbert comic strips as scenes for the movie. At some point I will dig through all 8,000 Dilbert comics and pull out the strips that deserve full scene treatment. But if you have any suggestions I am willing to be swayed at this point in the process. All I need is the topic idea, such as "Show Dilbert getting a performance review." Maybe someday you will be watching the movie with your family and you can point to the screen and say, "That was my scene."